Top Glasgow Caledonian University students recognised by Clark Contracts
9th December 2019 By Clark Contracts Ltd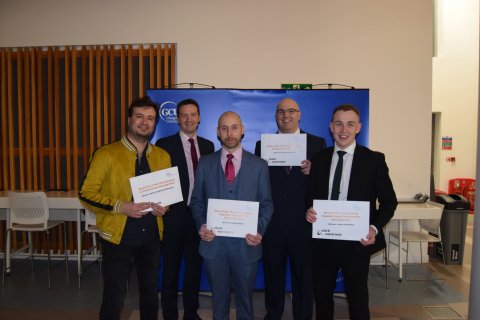 Five top performing students have won awards sponsored by Clark Contracts at the Annual Prize Giving of the School of Engineering and Built Environment at Glasgow Caledonian University (GCU) on Thursday 28th November.
Ashley Butler won the Alan Calder Memorial Prize, a special award for quantity surveying students set up by Clark Contracts in 2008, in memory of a former colleague. The prize, including a cheque for £200, is awarded annually to the top final year Quantity Surveying Student (part time) at Glasgow Caledonian University.
Clark Contracts also sponsors awards relating to Level 3 Construction Technology, a core module at GCU, which was presented to James Hamilton for Construction Management and Matthew Turner for Quantity Surveying.
The other awards were for the Best Level 1 Student for Quantity Surveying and the Best Level 1 Student for Construction Management, which were presented to Ehsan Forghanyesfidvajani and Kieran O'Donnell respectively.
Gordon Cunningham, Managing Director, Clark Contracts said, "This is our nineteenth year sponsoring awards as part of this prize-giving ceremony and it is always fantastic to see the hard work and dedication of the students recognised. We look forward to continuing to support the university both through this annual sponsorship and by continuing to provide work placements for both Construction Management and Quantity Surveying students."
Look inside our Head Office:
Look inside our Edinburgh Office