West Primary School pupils build safety knowledge with Clark Contracts
6th May 2019 By Clark Contracts Ltd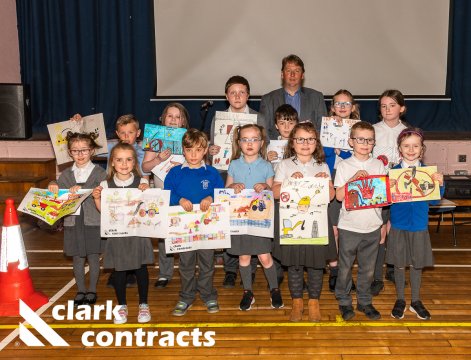 Pupils at West Primary School in Paisley learned about health and safety on live building sites, with a competitive twist.
Construction, Refurbishment and Maintenance contractor, Clark Contracts, is delivering a £2.5m refurbishment of the roof and replacement of windows within West Primary school for Renfrewshire Council, scheduled for completion in Summer 2019.
The contractor's Health, Safety, Environment and Quality Manager visited the school along with the Site Manager to deliver a presentation highlighting the dangers on a construction site. The children were then asked to design posters to alert others of the dangers they had learned about.
17 class winners from the school were each presented with an Intu Breahead gift voucher.
In addition, the overall best design from the school, submitted by Amy Sheppard, P6 has been professionally printed for display around the site hoarding. The school also received a cheque for their participation which they can use towards new resources for the school.
Lynn Ferguson, Head Teacher, West Primary School, said Our pupils were really keen to get the safety message across and did a great job designing the posters. There was great excitement at our recent assembly when the winners were announced. We are thankful to Clark Contracts for their support in this competition and their donations of money and a bike rack to the school and nursery class.
Gordon MacKenzie, Health, Safety, Environment and Quality Manager, Clark Contracts, who presented the prizes to pupils said, "It was important for us to ensure that the children at both the primary school and nursery are fully aware of the dangers associated with live construction sites as they are passing our site every day. We were impressed with all of the posters, especially the winning design as it showed a clear and creative understanding of the safety messages we delivered during our presentation."