Works start on brand new £10m Aberdeen Wickes store
28th September 2023 By Clark Contracts Ltd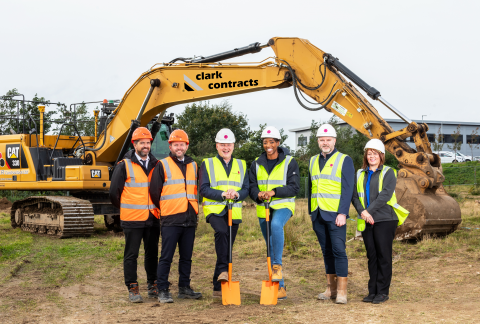 Works have started on a brand new £10 million Aberdeen store for national improvements giant Wickes.
Knight Property Group has commenced on site with the construction of the store, to be based at Phase 3 of Kingshill Park, at Westhill in Aberdeen. Planning consent was granted on the three-acre site by Aberdeenshire Council in March this year.
When complete, the new store will bring around 25 new jobs to the local economy and will see Wickes make a welcome return to the Granite City.
Knight has agreed a 20-year lease with Wickes and has appointed Clark Contracts as the main contractor to deliver the 25,000 sq ft bespoke store, which will also include 79 parking spaces and an outdoor projects centre for landscape and garden projects to the rear of the store.
The construction process will take around six months, with completion scheduled for Q2 2024.
The new building has a steel frame design to a high specification and will be constructed of high-performance composite wall and roof cladding. All internal fit-out will be handled directly by Wickes.
Sarah Taitt, Wickes Property Director of Wickes said:
"We were keen to establish a presence in Aberdeen once more. With work now in progress, we are excited to watch the construction process take shape and look forward to opening next year. This will not only offer a wider range of options for consumers but also generate new employment opportunities for the local community."
Howard Crawshaw, Managing Director of Knight Property Group added:
"The new Wickes store will be a welcome addition to the local area. The building has been designed to meet the tenant's specification and sits well with our other surrounding properties and complements the other amenities available at Westhill. It will be an excellent destination for both staff and customers.
"We're delighted to collaborate once more with Clark Contracts, known for their consistent delivery of high-quality work, and we're eagerly anticipating the development of this new store taking shape in the upcoming year."
Michael Scanlan, Director of Clark Contracts added: "We are excited to be involved in this project to bring a new Wickes store to Aberdeen. We have a strong relationship with Knight Property Group, having worked on a number of similar developments for them to deliver a high-quality end product, and are looking forward to working with them again."
Wickes welcomed its first customers 50 years ago and is one of the UK's fastest growing home improvement retailers. Its initial site at Whitefield, Manchester opened in 1972.
The business is one of the UK's leading DIY chains and builders' merchant and now operates more than 230 stores throughout the UK, with existing Scottish sites in Dumfries, Dundee, Edinburgh, Glasgow, Inverness, Perth and Stirling.
Wickes will join other big names in the business park including Starbuck's, McDonalds, Screwfix and Toolstation.