Works underway on new home for Scottish Trade Unions Congress (STUC)
17th January 2020 By Clark Contracts Ltd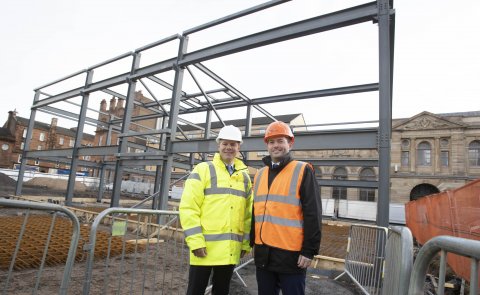 Work has officially commenced on the £2m design and build of a new office development on Landressy Street in Bridgeton, with works being completed by Clark Contracts.
The two-story office pavilion, which is being delivered as part of Clyde Gateway's regeneration programme, will become the new home of the Scottish Trade Unions Congress (STUC).
Representatives from Clyde Gateway and Clark Contracts were joined by MSP Derek Mackay, Cabinet Secretary for Finance, Economy and Fair Work and Grahame Smith, General Secretary of the Scottish Trades Union Congress on Wednesday 15th January to mark the start of the development, which is scheduled for completion in Summer 2020.
The event was also attended by members of the design team, consisting of Project Manager and Quantity Surveyor, Turner & Townsend, Architect, Keppie Design, Structural Engineer, Woolgar Hunter and Mechanical and Electrical Engineer, Atelier Ten.
Upon completion, Bridgeton Civic Hub, which is located directly opposite Glasgow Women's Library, will provide 6,500sq.ft. of office accommodation for STUC.
Alison Thewliss, the Chair of Clyde Gateway said: "The local communities made it clear from the very beginning that bringing jobs back to the area had to be our top priority. We promised them that we would work tirelessly to attract every possible type of organisation and company to the area from all walks of life."
"It is highly significant that we have been able to attract such a significant part of civic Scotland to the Clyde Gateway area. The presence of the STUC will be another positive change in respect of the perceptions of the area and, sitting alongside the Women's Library and very close to the University of Glasgow's presence on the top floor of Olympia at Bridgeton Cross, we are now beginning to see the establishment of a significant civic hub of buildings in the area."
"I want to thank everyone at the STUC for making this commitment to the area. I also want to thank Derek Mackay and his colleagues within the Scottish Government for their unstinting support for everything we are seeking to achieve across Clyde Gateway over the past twelve years, and look forward to the continuation of a successful partnership as we make further progress."
Michael Scanlan, Director, Clark Contracts said: "We are delighted to be continuing our relationship with Clyde Gateway to deliver this project and contribute to the overall regeneration of Bridgeton."
Clark Contracts are also currently working with Clyde Gateway on the £4m design and build of a further two office pavilions within Rutherglen Links Business Park, which is the final phase of the overall Rutherglen Links development.